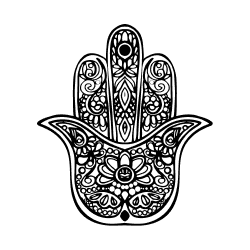 India is a prospective region for attracting new traders. Lately large bookmakers, crypto-exchanges and trading platforms have been actively coming to the Indian market. It happened because the Internet became available to more than 43% of people in the country, and that's why the necessity for online-earning appeared!
Working with the Indian audience, you can greatly expand your potential in the affiliate program and increase your profits. In this article we'll look at the specifics of GEO and give you some tips on how to work effectively with Indians.
The main about India
India is a huge third-world country with a population of over 1.39 billion people. The main religion is Hinduism, which is practiced by more than 80% of the population, 15% practice Islam, 2.5% – Christianity. The official language is Hindi, spoken by a little less than 44% of Indians. Also the official language is English, which is used according to different data from 5 to 10%. But, depending on the region, people may speak other languages. There are a total of 447 languages in India, including:
Bengali – official in West Bengal;
Tamil – official in Tamil Nadu State and widely spoken in southern India;
Marathi – official in the state of Maharashtra, including Mumbai.
Gujarati – official in Gujarat;
Kannada – official in the state of Karnataka.
It is important to remember that people in each region are zealous in standing up for their traditions. So while setting up ads, you need to consider the culture, religious and linguistic preferences of a particular region. We will talk about this later in the article.
Indians and trading
The people of India have a positive attitude toward anything that allows them to make money, especially in the "here and now" format. Indians are gamblers, they play online casinos in their masses, and they are also interested in financial markets and trading.
Millions of Indians dream of escaping poverty, so trading is an opportunity for them to make their dreams come true. Considering the quite low level of income, Indians can't invest much. But that's not a bad thing, because the advantage of GEO India is the huge size of the interested and highly motivated audience.
Search systems and social platforms in India
Each country's audience has its own preferences for social media and search engines. In order to effectively attract traffic from India, it is important to understand where exactly to look for future traders.
The most popular search engine is Google, which is used by more than 96% of users. In second place is Bing, which is preferred by only 1.19%. Interesting fact that the majority of users interact with the Internet only through mobile devices.
Indians like to sit on social networks and spend about three hours a day doing so. They use social media to communicate, read news, watch streams, and buy things. According to Ipsos research, Indians have the highest level of trust in social media information in the world, making India a particularly attractive GEO for traffic generation. The most popular social platform is Facebook, which is used by 31.9%. Indians actively use Instagram, Twitter, Linkedin and Snapchat. Popular messengers: WhatsApp, Telegram, Facebook, Messenger. These are the platforms we are interested in to attract traffic.
More than 72% of social network users are men from 18 to 34 years old. Note that men aged 24+ are the main target audience in the trading sphere.
Advertising for India: what you need to know
India means cheap traffic and an unsophisticated audience. The cost of attracting one lead from India is about three times cheaper than, for example, from the CIS. Besides, the Indians are not as demanding in terms of quality and creativity. But it's not all that simple. Foreign advertisers can easily make a mess of things by making misunderstood creative or insulting the feelings of the Indians. So every touch with your target audience must be thoughtful. We advise to pay attention to three points:
Language. Hindi and English are not a panacea. For advertising in any given region, choose the language of communication that is spoken by the majority of its residents.
Culture. Before you start advertising you need to make sure that the content doesn't contradict traditions and beliefs.
Social status. In India there are rich and poor regions. Making creatives, it is important to know about the standard of living in the region and the motivation of future traders. For example, for residents of poor regions, the motivation is to improve living conditions, help the family, etc., and for the rich, the motivation is to multiply capital.
A few more tips for making creatives for Indian audiences:
Use photos, graphics, and videos of Indians in your ads. The point is that an Indian can't associate himself with European-looking characters. It's something foreign and distant.
Describe the offer in simple words without duplicity or subtext. The specificity of the Indian audience is that users are inattentive in consuming content.
Be positive. Indians are positive and cheerful people, it's in their mentality. Therefore, use bright colors, big catchy headlines, and colorful design to get attention.
Give bonuses and discounts. Residents of India, they are not yet familiar. Nicely works time limit.
Offer interactivity. Indians are active and happy to interact with the content. This can be quizzes, quizzes, AI-powered chatbots, and videos with a choice of story branch (YouTube Card feature).
Broadcast Live. Streaming is a popular format among the Indian public. About 30% of users in India regularly watch live streams on social networks.
Engage opinion leaders. People in India have a very high level of trust in recommendations, reviews, and advice. Of course, famous sportsmen and Bollywood stars may not be affordable, but regional Influencers will do just as well.
Be inspired by the successful cases of famous brands that have entered the Indian market, such as Amazon or Ikea.
7 Benefits of Binarium for Indian Audience
How to convince an Indian to choose your offer? Let's talk about the advantages of the platform, which can be focused on in advertising.
Intuitive interface. Even a beginner can easily understand the platform. This is an important argument for Indians who don't really like to get bogged down.
Binarium mobile application. Since more than 70% of the audience more often uses the phone, the availability of the application may become a deciding factor in the offer.
Low entry threshold. The minimum deposit on the platform is only $5.
Regular bonuses. Additional funds to the account is the most convincing advantage for an Indian.
Hindi version of the platform. Binarium supports both English and Hindi, making the platform accessible to most parts of the country.
24/7 support in English. Indians love communication, both in their personal lives and in their work. They ask a lot of questions and look for help at every opportunity. 24/7 support is a great advantage.
Available payment systems. A trader from India doesn't have to dance with tambourine to fund an account. On the platform you can open an account in Indian rupee (INR) and use popular payment services.
Payment systems is a special subject. Indian users rarely deposit by bank cards. Very popular are services which offer fast and reliable payments: UPI, PhonePe and PayTM. All these services are presented on the Binarium platform.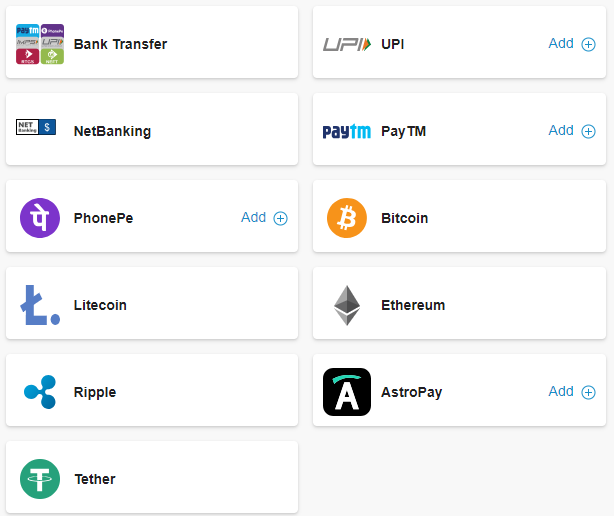 Deposit methods for India
India is an opportunity to get cheap leads in huge quantities. And most importantly, you have everything you need to work with this GEO! The Binarium platform is fully adapted for Indian traffic: language, 24/7 support, payment services and much more. Besides, CleverAff managers are always ready to help with ad creatives adaptation and resolving technical issues.