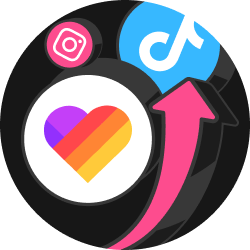 Quality traffic is a key factor for stable earnings in an affiliate program. But what traffic source should you pay special attention to? The answer is simple: choose social networks that promote short vertical video formats and streamers. Let's understand why you should invest resources in such social platforms and where exactly you can find potential leads.
Short videos are the perfect format to work with your social media audience
Social networks are one of the most popular and effective sources of either paid or free traffic. The reason for this is the huge audience of users and high engagement. According to researches by We Are Social, users spend about 2.5 hours per day on social networks. One out of four users searches the platforms for useful information, and video is the most popular type of content.
Users are more likely to watch short videos of up to 1 minute in length. This format is easy to consume, doesn't require much time or mobile Internet. The popularity of short vertical formats is also connected with the fact that about 70% of people use mobile devices. It is more convenient for them to watch videos without turning the phone, as it happens with long horizontal videos.
It is important to note that according to the latest data Binarium platform users prefer to trade from mobile devices more and more. About 60-70% of traders regularly access the platform from their smartphones and this figure is increasing by 5% every year. This is a good reason to add social platforms with short video formats to your traffic attraction strategy.
Specifics of creating short videos
The short video format is easy to watch, but you'll have to sweat the small stuff creating it. The challenge is that you have about 3 seconds to attract attention, and you need to make the most of that time. So we recommend following some general advice:
start with the main thing: voice the question or issue that the viewer cares about;
use the hot topics, which are actively discussed at the moment in social networks;
make sure you add subtitles and captions – not everyone sees videos with sound;
use popular memes;
ask questions of your audience to generate discussion.
What exactly can you film? Talking videos about successful and failed experiences, beautiful infographics with numbers (various statistics, comparisons, etc.) guides and short tutorials work great.
Top social networks with short videos to attract traffic
#1.TikTok
The TikTok platform is a video content social network with an audience of over 1 billion monthly active users. It has been considered a teenage platform for a long time, but today more than 65% of the audience is between 18 and 34 years old. The social network is quickly growing up and is filled with a paying audience.
TikTok allows you to attract organic traffic without big investments. The point is that you can reach hundreds of thousands of users on the platform, even without subscribers. The main task is to hit the trend. And the formula for getting views is simple:
make a short, creative video;
add trending audio;
use trending hashtags appropriate to the topic of the video.
Trends and hype are key to success on TikTok. Trends are popular ideas and topics that millions of users are shooting videos about. New trends regularly appear on the platform, which live from a couple of days to a few months. They should definitely be used to promote yourself on TikTok.
Promoting a page for free is quite realistic, but it will take some time. You can speed up the process with Influencers, which will bring the "warm" audience to your profile. But you shouldn't use scamming, because it is easy to be banned. It's also important to remember that access to TikTok may be restricted in some countries. For example, it is completely banned in India, and in Russia, TikTok is partly closed.
How to generate leads in TikTok? Make trending videos and publish fresh content regularly. Do live streams on the topics of earnings and trade, and show the results. Interested audiences from TikTok can be transferred to other platforms with a link in your profile, for example, to the Telegram channel, where you can warm up and convert.
#2. YouTube Shorts
Shorts is a YouTube feature that allows you to upload and view vertical videos of up to 1 minute. The option became popular among users and has already been called a competitor to TikTok. Now the monthly audience of Shorts is more than 1.5 billion viewers.
General rules for creating YouTube Shorts:
the length of the video is up to 1 minute;
you can record a new video directly in YouTube Shorts or upload your own;
you can't use audio tracks from YouTube's audio library for uploaded videos;
you can't use other people's copyrighted content;
subtitles must be used;
title must be up to 100 symbols;
relevant tags have a positive effect on views;
you need to include the type of access and audience.
It is important to note that the platform is loyal to the promotion of the topic of binary options, unlike vertical gambling, which is under a ban. You can feel free to promote the trading platform without fear of getting a strike. In general, YouTube is seen more and more as an educational platform, and Shorts is more a way to get attention for your channel. Therefore, it is important to make not only Shorts, but also long videos for your channel so that YouTube can generate traffic regularly.
To summarize: with short videos, you can increase your reach, get new subscribers and free traffic to your landing page, or better yet, to your Telegram channel. Some CleverAff partners use only this way: YouTube → Telegram → conversion. And it gives a great result! We'll tell you more about why we recommend traffic in Telegram in the next article.
#3. Likee
Likee is a social platform for publishing augmented reality videos. The platform has about 150 million users and it's a good alternative to TikTok for those countries where it is banned or restricted. Of course, the popularity of Likee is several times lower, but this social network is actively used in Russia. As of May 2023, the number of active users from the Russian Federation was 8 million per month.
For creating videos, there are the same general rules for short formats as in previous social networks. It isn't possible to publish active links under the video, but you can put a link to messengers in the description of the profile. So the way of working with traffic is identical: you publish videos, gather interested audience, drive traffic to your sites, from which you convert leads.
The Likee platform allows you to set up targeting by demographics, interests, and ready-made audiences. The social network is trying to expand as quickly as possible, so it's easy to promote almost any vertical.
#4. VK Clips
The social network Vkontakte continues to be the most popular among Russian users. More than 101 million users access the site every month. Lately it has increased the popularity of VK Clips. These are vertical clips up to 3 minutes long. Today, with the help of Clips actively promotes a lot of experts and businesses. Popular topics: education, earnings, entertainment, merchandise, etc.
VK Clips can be effectively used to generate organic and paid traffic from RF. Clips can be promoted, and the success of this format is often much higher than targeting ads, at a lower cost per conversion.
You can create clips for VK Clips by the same rules as for TikTok. But you should add a few more:
the video should be strictly vertical and of high quality;
masks, stickers, special effects, AR-mechanics attract attention;
trends are the engine of promotion in recommendations;
the video and its description should have a clear call-to-action and a link to the site where you are driving your traffic.
On the VK platform, it's also extremely important to get into recommendations. VK algorithms analyze the first minutes of interaction with the video after publication. If there are reactions, then the video will see more users, if there are no reactions, then it won't be promoted by the system. Therefore, it is important to immediately repost the VK clip to your personal page and community, if you have it, as well as encourage subscribers to watch, like and comment.
#5. Instagram Reels
Instagram is one of the most important social platforms with a monthly audience of over 1.2 billion users. The platform's tremendous popularity and constantly changing feed algorithms have made it impossible to promote content for free. However, the introduction of Instagram Reels has changed everything.
The Reels format consists of short videos that are saved in a separate tab on the page. The unique feature of Reels is that they are not only seen by followers but also by a new audience. Instagram algorithms show Reels to users who would find them genuinely interesting. And with a recent update, new audiences are now shown the most relevant Reels for each specific user, rather than just the latest ones. Essentially, Reels serve as a free tool for increasing the follower base on Instagram.
You can create various types of content for Reels, such as:
Life hacks, guides, instructions (how to earn money, how to trade using a specific strategy, how to withdraw funds from a platform, etc.)
Answering subscribers' questions
Humor, memes
Storytelling (personal experiences, stories from subscribers)
Expert content
Aesthetic content - showcasing the beautiful life of a successful trader
Trends, viral topics, videos using trending music.
Since you can't attach links to Reels, the audience from Reels will directly go to your Instagram page, and from there, they can be directed to Telegram or another target platform. We recommend adding a partner promo code to your Reels, which allows you to associate a trader with you, even if they didn't register through your link. To create such a promo code, you need to contact your manager. It's important to remember that trust needs to be established to convert the audience into conversions. Therefore, it is necessary to regularly publish valuable content on your page: Reels, text posts, videos, stories.
#6. Bigo Live
Bigo Live is a social platform for live streaming with an audience of around 400 million people. Bigo Live is something in between the live broadcasts on TikTok and the streams on Twitch. On Bigo Live, you can showcase the trading process, provide platform and trading tool reviews, share personal experiences, answer viewers' questions, and offer educational content. The service allows you to upload short videos and posts on your profile, which are necessary to warm up the audience and bring them to your live stream.
In addition to the ability to publish content and conduct live streams, Bigo Live offers group streams with up to 9 participants. This is an excellent option for collaborations with popular streamers. The service also provides rooms for video and voice communication.
It is worth noting that Bigo Live is highly popular in the adult content category, as well as for gaming and music streams. These niches have extremely high competition. However, the niche of earning and binary options is relatively untapped. This presents an opportunity to create a new traffic source without significant investment.
Social platforms are an ocean of potential leads. We have only discussed a few options for social networks from which you can generate quality traffic using the popular format of short vertical videos. Which platform should you choose? We recommend testing them all. You can publish the same videos on all platforms and track the results. Then, you can focus your attention on one or two platforms that generate the best traffic. However, before choosing a platform, it is important to research where it is popular, restricted, or prohibited in certain countries. If you have any questions about working with social media traffic or using materials for videos, please contact your CleverAff manager.