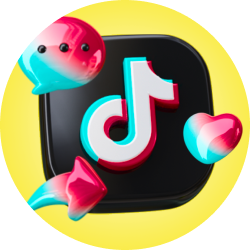 While vlogs on YouTube are slowly becoming a thing of the past, short videos are revolutionizing the world of video content. In our previous article, we discussed social media platforms that promote vertical videos, with TikTok being the most popular among them. The app has been downloaded over two billion times, which means your chances of attracting a loyal audience increase exponentially!
How to attract traffic on TikTok as a partner
According to statistics, audience engagement on TikTok accounts for 20% of the total number of platform users. For comparison, the Engagement Rate on Instagram Reels is only 5%.
More users mean more responsibility. The challenge of promoting on such a massive platform lies precisely in its scale. With a huge selection of content available, viewers become more demanding. And in order for a video to make it onto the recommended list, content creators sometimes have to go the extra mile. But it's not as daunting as it seems if you know a few secrets.
The goal of a video is to get as many views as possible. Increasing the number of views allows you to monetize your content, attract a new audience, and enhance the engagement of existing viewers. Unlike other platforms, TikTok counts a view for a video from the moment a user opens it. Each playback from the same account contributes to new views, excluding the views by the video's creator.
How to Get Views
Recall your own user experience, relate it to the platform's statistics, and consider the interests of your traders. This is the formula for perfect traffic attraction on TikTok for an affiliate program.
Want to know more? Let's explore content promotion options that boost your profile's statistics:
1. Keep up with current topics and trends. Global and local news can be a reason to create creative content that quickly catches on and makes it to the recommended section. Yes, the lifespan of such situational trends is often short, and they may no longer be relevant tomorrow. However, the ability to quickly jump on a hot trend and come up with your own original way to play it out is a significant advantage for creators.
For example, if news breaks about a surge in the cryptocurrency market, seize the opportunity and create content like: "Top 5 Advantages of Cryptocurrency Trading", "Rules for Investing in Cryptocurrency", "Cryptocurrency Review on the Binarium Platform", or a meme about using cryptocurrency as payment. Choose any idea and talk about what everyone is interested about now.
2. Collaborate with others. New faces and popular names can literally skyrocket your view count. Unique knowledge from a competent individual (trader, analyst, manager) quickly boosts trust from subscribers. Collaborating with another influencer is an opportunity to "exchange" audiences and multiply your own.
3. Host live streams. TikTok viewers like to observe bloggers' personal experiences, especially when they "try on" the life hacks they talk about or showcase behind-the-scenes tricks.
So, what's stopping us from trading live on camera? Or sharing trading knowledge while applying it in practice? Videos featuring online trading and educational content are valuable due to their uniqueness. For beginners, this is an opportunity to immerse themselves in a new field and platform. Many partners conduct exclusive trading sessions for their subscribers, where they share up-to-date signals for opening trades. This type of content attracts a significant number of traders.
Not ready to give out signals? Show how you earn on the platform, analyze charts, and adjust trading indicators. This increases the level of trust subscribers have in the Binarium platform and trading. In return, you gain many views and, as a result, revenue from the traders you attract.
How to hook the viewer from the first seconds of the video
So, you've chosen a topic, video format, and started writing a script and brainstorming ideas. Use these life hacks to achieve your goal of getting into the top views:
1. Switch to a public account. In the settings, you can change your account type from personal to business. This way, all statistics on views, likes, saves, shares, and forwards will be available with just one click and without the need for additional programs.
2. Be active. Consistency is the key. Create a content plan and determine the optimal number of posts per week/month. More posts increase your chances of landing in the recommended section. Also, be an active user, and TikTok will contribute to your promotion.
3. Engage with your audience. Personal interaction increases viewer loyalty. Respond to messages and comments, provide detailed feedback, and actively involve your audience in your content. Want to respond creatively? Leave a video response, which can also become popular on the platform and bring additional traffic.
4. Use trending sounds. Keep an eye on tracks that make it to the top. By searching for videos with a particular song, you may attract a completely new and interested audience. Don't forget to be creative and add your own sounds.
5. Utilize hashtags. The hashtag symbol helps you "find your own audience". This is how TikTok's algorithms determine the topic of your video and recommend it to interested viewers. It's also a powerful tool to reach your niche through user searches.
6. Come up with an original username. Your name should be the same across all platforms where you monetize your traffic. This increases recognition and allows you to promote your own brand.
7. Create video captions. Short descriptions save a lot of time in finding a loyal audience and earn you bonus points for caring about your subscribers.
8. Visit other pages. Other users' channels provide an additional field for finding potential traders. Active participation in thematic discussions may interest someone enough to visit your page. But! Do not leave your affiliate link under other partners' videos to lure traders. Such accounts are blocked by the affiliate program's support team.
9. Promote your channel through other sources. Add a link to your TikTok profile in the header of your social media accounts so that subscribers from other media don't lose you on the short video platform.
10. Publish at the right time. If you add a new video when everyone is asleep or during the busiest working hours, don't be surprised if it doesn't receive much attention. Learn the analytics of your account to understand when your audience is most active on social media. Plan to release your video during prime time and gather maximum views, likes, and subscriptions.
TikTok is a platform that gives a lot of opportunities for monetizing traffic in an affiliate program. The platform's advantage is that the starting conditions are equal for everyone: anyone can become a millionaire blogger and achieve their goals through this tool. Find your niche and content format, stay up to date with the latest trends, use the life hacks mentioned in this article, and fly into the recommendations!
If you have any questions about working with social media traffic, you can always contact CleverAff support and consult with a manager.