Content is the key tool for attracting and monetizing traffic. We have to be creative and create compelling content to attract new traders. It takes a lot of time and effort... But what if we delegate the task of writing texts to artificial intelligence? In a matter of seconds, a neural network can create a useful post about trading, a clickbait headline, or a persuasive review.
In this article, we will explore services that make the text creation process easier, faster, and help increase the effectiveness of traffic generation in an affiliate program.
Let's start with the buzzworthy chatbot, ChatGPT, which set the trend for using neural networks in marketing in 2023. ChatGPT has captivated users with its ability to engage in conversations and generate "lifelike" texts on various topics, including full-fledged articles, advertising copy, scripts, and even novel plots. You can find more information about ChatGPT's capabilities in our article How to use ChatGPT to drive traffic on CleverAff. The article includes real examples of how our partners can use the chatbot in their work.
Check out Rytr, a versatile assistant that can handle most of the routine tasks related to text. You can integrate it into almost every stage of creating content to attract new traders, from generating video ideas to creating landing pages. Rytr can write up to 10,000 characters per month for free.
Rytr also excels in chat-based communication and image generation. The service offers impressive features, including:
Support for over 30 languages, including Russian.
More than 20 speech styles, such as informative, conversational, humorous, formal, inspirational, and more.
34 text formats, including email, articles, Google Ads copy, reviews, social media posts, AIDA and PAS sales formula texts, landing page content, and more.
The ability to select the desired level of creativity.
A user-friendly text editor.
To generate text with the neural network, you need to set the parameters and clearly formulate your request. Keep in mind that while the neural network is intelligent, it lacks emotional intelligence like a calculator. The network interprets requests literally, so it's best to avoid ambiguity and sarcasm. After submitting a clear request, Rytr will provide the text formulation in the convenient editor, allowing you to refine the results.
Wondering how Rytr performs in practice? We asked the service to come up with several ideas for a video about binary options trading.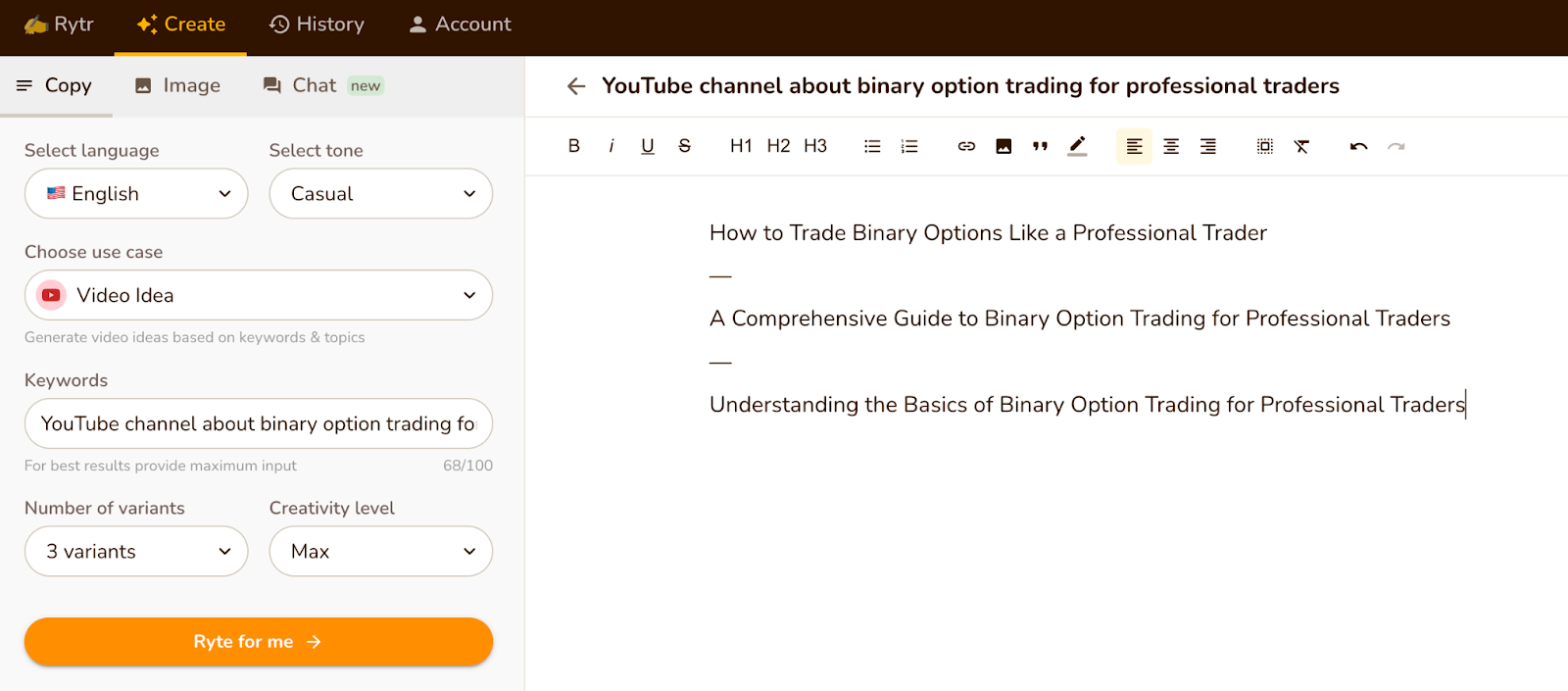 In the input field, we set the parameters, and within a couple of seconds, we received several idea options. As you can see, the result is not perfect, but it's something we can work with. We just need to do some editing to refine the formulations, and then we can incorporate the ideas into our content plan!
The neural network Postello is a valuable tool for working with social media. Social networks provide an excellent platform for attracting, engaging, and converting traffic. However, to establish an effective system for engaging with a trader audience, it's important to consistently publish a lot of great content. And that's where Postello comes to the rescue when the mere thought of writing another post becomes painfully overwhelming!
The Postello service can generate quite readable texts based on short queries and keywords. Moreover, you can customize the "tone" of the text by selecting the level of emotion, narrative style, and even the use of thematic terminology. The highlight of Postello is the ability to set up automatic post publishing on popular social networks. And if you need to improve traffic generation to your website or blog page, you can integrate Postello with Google Analytics and Google AdWords. You can test the service for free with a 7-day trial version.
Let's see the level of writing skill of the Postello service. We gave it the task of writing an engaging post to attract new subscribers.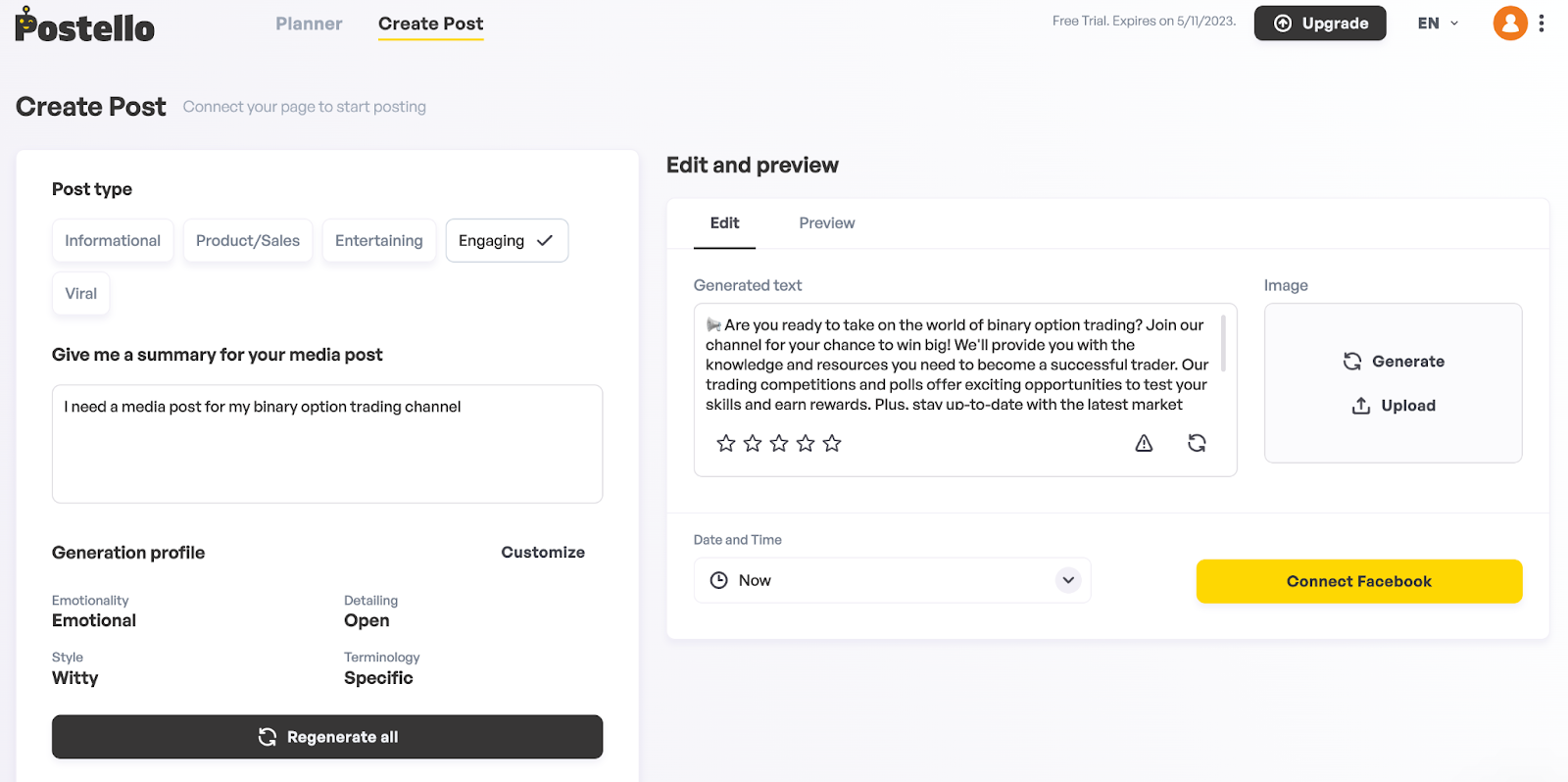 The neural network generated a post that, overall, meets our requirements. However, it's still worth using the editor. In the "Preview" tab, you can take a look at the finished post. By the way, another useful option is that the service automatically selects images for the texts.
You can schedule the post for publication right in the editor. Just set the date, time, and social network. It's truly a handy feature!
Writerly is a versatile writer bot that you can rely on for writing blog content and selecting keywords for SEO optimization and attracting search traffic. The bot generates 68 text formats in 12 categories, including sales, social media, advertising, marketing, SEO, and more.
Similar to the previous neural networks, Writerly writes text based on your request. Simply provide a clear description of the task and add the necessary keywords, and the service will take care of the rest. Writerly can write up to 10,000 words per month for free.
Now let's talk about the quality. This neural network pleasantly surprises with its creativity. Most of the texts look quite good and require minimal edits. With Writerly, you can expedite the process of creating content to attract traders.
For instance, the neural network did an excellent job in selecting a list of keywords for website promotion.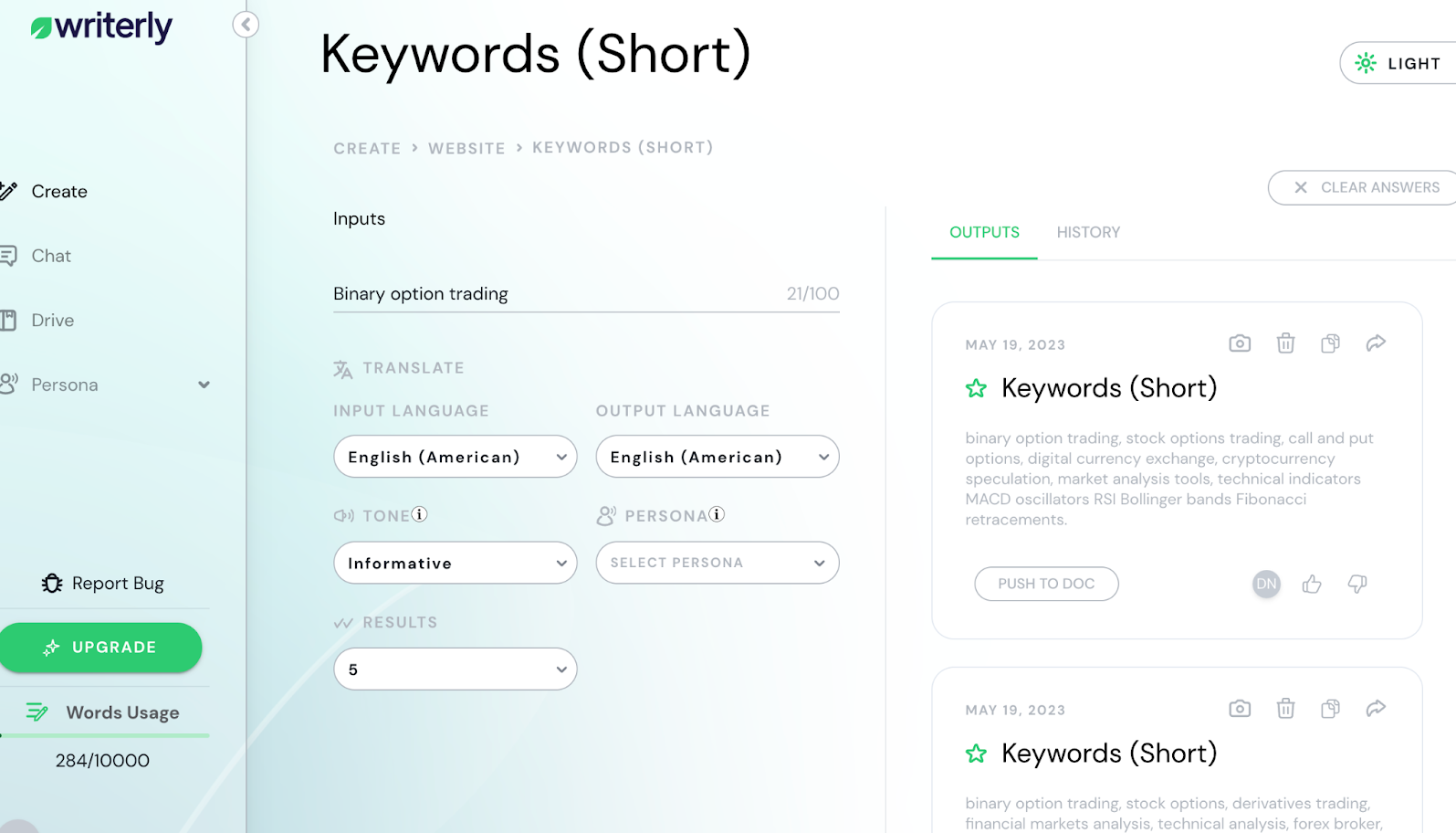 In just a few seconds, we obtained 5 different keyword lists on the topic of Binary Options Trading.

#6 Gerwin
Another text generation service worth mentioning is Gerwin. This neural network is trained in over 70 copywriting skills, including creating clickbait headlines, naming, and generating content ideas.
If you engage with your audience on various platforms such as websites, social media, messengers, YouTube, and more, it's obvious that you constantly need both educational and marketing content. Gerwin can help generate such content in large quantities. This neural network can write:
Unique blog articles for your website and Zen platform.
Posts for VK and Telegram.
Engaging reviews and comments.
Compelling headlines and titles for different purposes.
Persuasive texts using classic models like AIDA, PAS, BAB.
Ideas, titles, descriptions, and scripts for videos.
Creative storytelling.
Hashtags for posts, captions for photos, and more.
The generated texts can also be edited and formatted using Gerwin's functional editor and spell-checking feature. To test the service, you can request a promo code from the Telegram bot @GerwinPromoBot, which allows you to generate 10,000 characters for free.
We asked the Gerwin neural network to write a few paragraphs of an informational article about binary options trading. Here's what it came up with: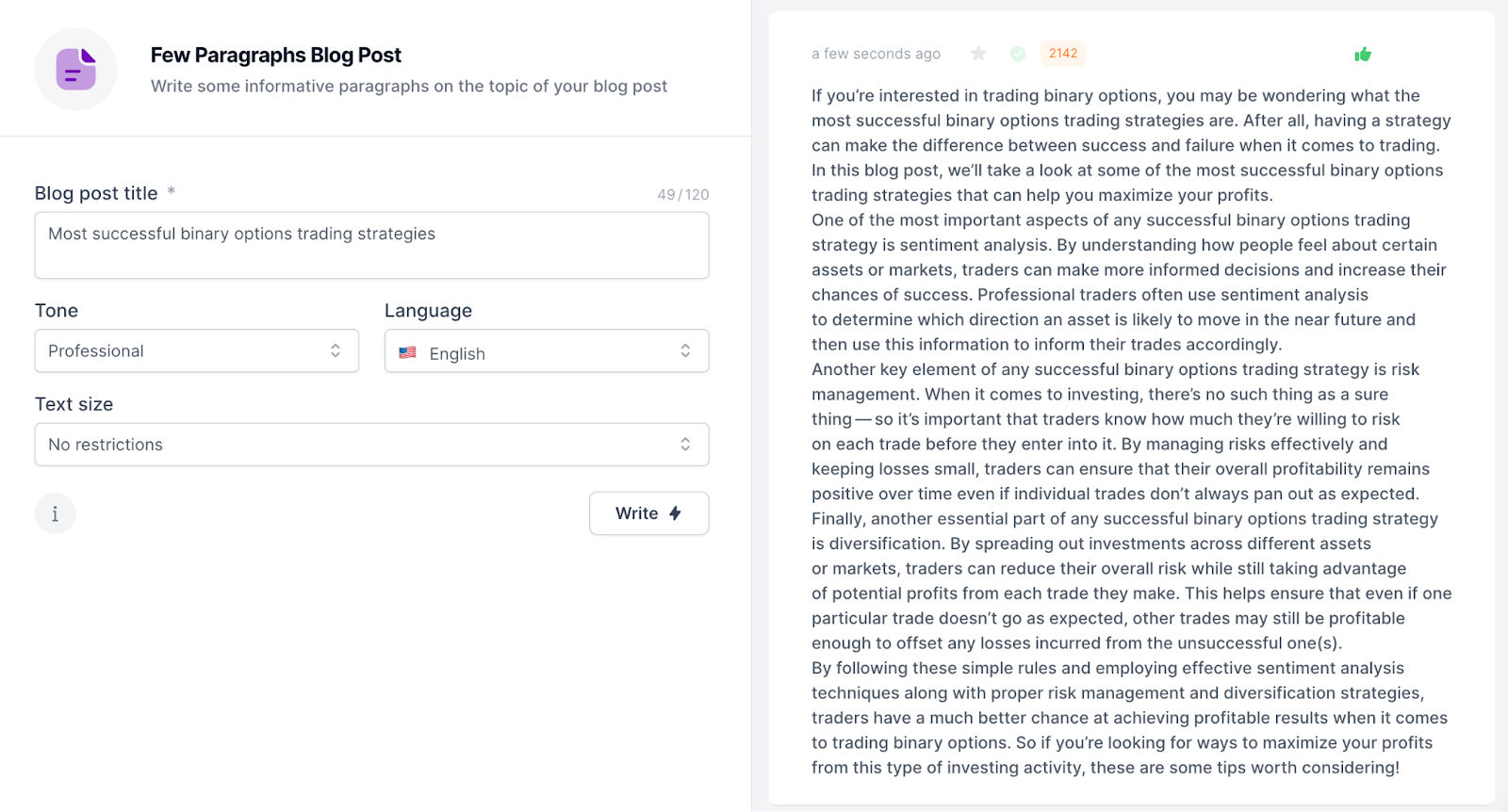 It takes a person about an hour, and sometimes significantly longer, to write such a volume of text. The neural network, on the other hand, managed to do it in a matter of seconds.
Bonus: 4 neural networks that will help improve your results in the affiliate program
In addition to writer bots, there are many other useful neural networks that can enhance the quality of your work and streamline many routine tasks.
The list of neural networks discussed is just a part of the services that can simplify your work in the affiliate program. For example, to attract more interested traders, you also need visual content - creative images for advertisements and posts, as well as videos. We will cover neural networks for visual content creation in detail in the next article. If you have a specific request regarding the use of neural networks in affiliate marketing, please reach out to your personal manager. The CleverAff team is always ready to assist you in achieving the best results.