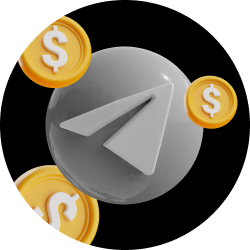 The Telegram messenger is a convenient and, most importantly, effective tool for traffic warming up and conversion. In our affiliate program we often recommend leading the target audience from social platforms to Telegram. It's time to understand what makes this messenger so good and how to use it for earning in the CleverAff affiliate program
The Phenomenon of Telegram: Why is it so Popular?
The Telegram messenger holds the 7th position in the ranking of the most downloaded applications worldwide. Interestingly, the majority of downloads come from India and Russia. Currently, the messenger is used by over 700 million people, and this number continues to grow every day. Telegram is a multi-platform messenger that can be used simultaneously on all available devices without losing data - information is updated in real-time. This is an important advantage for traders. According to the Statista service, 59% of internet users prefer Telegram for personal communication and send approximately 150 messages through it per day. 80% of respondents use this messenger to search for news and useful information.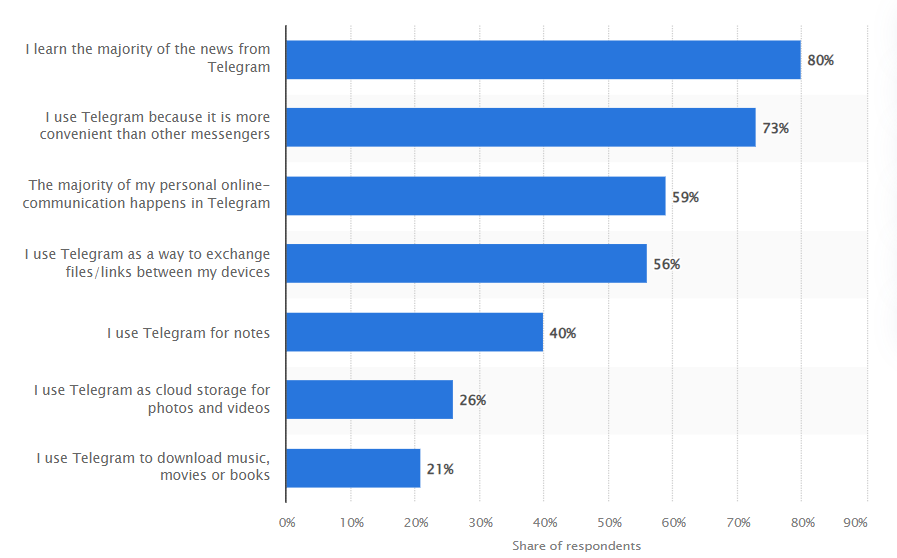 Despite its popularity, Telegram remains a personal means of communication. Unlike social networks like TikTok and Instagram, where the average user has a large number of subscriptions and an endless feed of news, Telegram has significantly fewer chats. What's the advantage? Firstly, users selectively subscribe to Telegram channels, so these channels usually have a truly targeted audience. Secondly, since there are fewer chats, there is a higher chance that your messages will be seen more frequently by your subscribers.
Tools for Audience Engagement on Telegram

As part of the traffic management strategy, Telegram can be used for converting traffic into registrations on the trading platform, providing education, support, and guidance - you can help clients properly use the product, answer questions, provide consultation, and more.
To achieve these goals, three tools can be used within the messenger: channels, groups, and chatbots.
Telegram channels are the best way to convey information to the audience. Channels have no restrictions on the number of participants, they can publish content unilaterally. However, you can turn on the comment and reactions feature so that followers can provide feedback. By default, the channel is public, and you can watch its content even without a subscription. You can increase the value of the channel by making it private. For the channel to work effectively, it is important to publish interesting and useful content regularly and, preferably, on schedule. The main thing is not to abuse the attention of the subscriber, because it is very easy to unsubscribe from the channel.
Groups are already a two-way communication method, because not only admins, but also participants can write to them. The number of users in the group is up to 200,000. Such a platform can be effectively used for targeted communication with the audience. For example, you can create groups for a loyal audience, answer questions in them, collect reviews that can be used for promotion and advertising. You can organize a closed group for VIPs with exclusive content, a customer support group, as well as a group for posting various promotions, special offers, promotional codes, etc. When creating groups, it is important to remember that they will have to constantly communicate and maintain a dialogue.

Telegram chatbot is the #1 marketing tool. With it, you can automate a number of routine processes that take a lot of time and resources, for example:
newsletter distribution;
offer personalization;
distribution of promo codes;
answers to frequently asked questions;
basic customer support;
registration and collection of personal data;
request processing;
survey and much more.
The main advantage of a chatbot is an instant response to a request and availability 24/7, which significantly increases the loyalty of subscribers.
Buying traffic

Let's consider the main methods of acquiring traffic for a resource on Telegram.
Advertising through Telegram ADS. This is the purchase of advertising directly in the messenger. The tool is new, so the functionality of Telegram ADS is quite modest - you can select only topics and channels, which significantly reduces the quality of traffic. In addition, there are restrictions:
Ad messages are limited to 160 characters;
Promoting external resources is prohibited;
Images and videos cannot be included;
Text moderation rules are strict: no abbreviations, acronyms, words written in uppercase, superlatives (such as "best platform," "highest payouts," etc.), opaque wording, and more.

Certain topics, including financial schemes, are prohibited from promotion, which can pose difficulties during the moderation process. However, it is still possible to promote and obtain inexpensive leads in the trading niche, based on practical experience. The major downside of Telegram ADS is the required budget for launching campaigns. Currently, the tool can be utilized by investing 2 million euros at the start, with 1 million euros being a deposit that can be forfeited if advertising worth 10 million euros is not generated within a year. Therefore, if you don't have such funds, it may be advisable to approach an advertising agency that can handle Telegram ADS campaigns for just 2-4 thousand euros.

Advertising exchanges. These are specialized services for buying and selling advertising space in Telegram channels, such as TelegaIN, ADsell, AdGram, and others. The idea of purchasing traffic through exchanges is simple: you choose a relevant channel based on its topic and statistics, submit your post, pay for the service directly on the platform, and receive a flow of leads.
However, advertising exchanges also have their drawbacks. Firstly, the price of advertising is fixed, which means no discounts or bonuses are available. Secondly, the schedule of your advertising campaign will have to be adjusted to the available dates and times offered by the exchange. And thirdly, these services provide incomplete statistics, making it easy to encounter channels with bots or channels that have changed their topic. For example, a month ago, a channel may have been focused on psychology, but today it could be about cryptocurrencies. Therefore, it is best to use an exchange to find channels and then analyze them using third-party services. Additionally, you can directly contact the administrators of suitable channels and negotiate discounts or a more convenient advertising schedule.

Independent purchase of advertising (crops) in Telegram channels.This is a great opportunity to understand the process and build a database of proven channels for further promotion.
The first thing to do is to make a list of suitable channels. This will require a catalog of Telegram channels with analytics, for example, the free TGStat service. Next, you should conduct analytical work and check each channel according to a number of criteria.
The number of subscribers and reach is a basic indicator that displays the activity of the channel's audience.
Post views – the organic page views should be high on the first or second day of posting, and then decline gradually. Incomprehensible jumps in a week may indicate cheating.
Subscriber growth - a positive factor for advertising purchase if the channel is currently being promoted and attracting new subscribers.
Audience sources - the target audience should come from channels with related topics. If the traffic comes from cheap sources like 18+, memes, etc., then this channel is not suitable for advertising.
History - whether the theme of the channel or its name has ever changed.
Mentions in Telegram - high-quality channels should have a lot of them. If there are hundreds of thousands of subscribers, and there are few or no mentions at all, this is a sign of cheating.
Audience loyalty - reactions, comments, forwarding posts. The bigger, the better.
Advertising on the channel - how many subscribers other advertisers have received, what topics are advertised more often (the presence of advertising from external eminent resources is a huge plus), as well as the frequency of paid posts. It is important that no more than 3-4 ads per day come out.
Where to get free traffic? One of the options for organic promotion is to redirect to Telegram the audience that you already have on other social platforms. To do this, you need to add a link to the profile header of pages on social networks and in the description of the video on YouTube, as well as actively promote the Telegram channel in stories and posts. It is important to remember that you need to motivate to subscribe to the channel with something useful, for example, exclusive content, special offers, personal promotional codes, as well as standard promotional codes that are published on the CleverAff channel. As a reminder, we also have affiliate promo codes that assign a new trader to a partner, regardless of the link he used to register on the trading platform.
Important: before launching a campaign to attract traffic, you should prepare the chanel - fill it with useful posts and create the appearance of activity. We are talking about cheating bots, reactions to posts, as well as votes in polls. The fact is that the audience is more willing to subscribe to "live" channels, where there are other people and some kind of movement. If you run advertising on an empty channel, then you can simply drain the budget. To cheat the audience and reactions to posts, you can use special services, for example: TapLike, Bestlike, Lowcostsmm, etc. It is enough to wind up 1-2 thousand subscribers, after which you can safely buy advertising. This practice is considered normal, as it later helps to speed up the progress.

A simple way to track the effectiveness of ads

For more convenient and accurate tracking of advertising effectiveness, especially when it is running simultaneously on multiple channels, you can use invitation links created in the channel settings specifically for each traffic source. When a user clicks on this link and subscribes, the data will be displayed in the settings. Invitation links can be created in unlimited quantities, and each link will provide information about the number of subscriptions. It is also possible to set limits on the link's validity period and the number of subscriptions it can generate.
It's important to note that information about new subscribers also takes into account unsubscribes. So, if 100 new subscribers joined the channel from one source in a day, but 30 unsubscribed, the data will only show 70. Therefore, in the first few days after launching the advertising campaign, it is advisable to monitor the statistics every few hours to assess the results more objectively. Using this data, you can calculate the cost per subscriber from a particular channel and, if the figure is too high, adjust the creative or even refrain from ads.
Invitation links can be placed on any source and in advertisements on channels. However, they cannot be added to Telegram ADS.
To create an invitation link, open the channel settings, go to the "Channel Type" section, then "Invite Links Management," and click "Create New Link." It's recommended to name the link in a way that clearly indicates the source of the subscriber. You can also customize the link parameters and generate a QR code.

Lifehack: warming up traffic through a bot

Earlier, we already talked about how you can use a bot in Telegram. But besides this, the bot can become a tool for warming up traffic or completely replace the channel. In the first option, traffic from advertising is directed to the bot, which "warms up" a person with the help of questions/surveys, for example, "Do you want to start making money by trading?". After that, the bot transfers the user to the main channel, where he receives the necessary information, for example, a description of a simple trading strategy, a promo code with a bonus, and a registration link. In the second option, the bot warms up, issues an offer and converts it into registration.
Thanks to such simple schemes, several problems can be solved at once: improve the quality of subscribers on the main channel and reduce the number of complaints, because after the bot a "warm" interested audience comes to the site.
How to manage a Telegram channel

The basis of channel management is content. Do not post only advertising on the channel and constantly sell! Your task is to warm up and motivate the audience. The secret of success lies in the variety of content. In addition to selling posts, we recommend publishing:
useful training materials on trading;
light entertainment content;
surveys and interactive posts to increase activity;
cases and reviews to increase audience loyalty;
guides and instructions that will help you understand the platform, trading instrument, strategy, etc.
It is desirable to mix the content format: text posts, images, videos, infographics. Try to stick to a single style in the design of all content that is published on the channel. Posts with links, current promotional codes, promotions, etc. needs to be fixed. This will allow subscribers to quickly find the information they need and take the targeted action, and you won't have to post the same post multiple times.
Separately, it should be said about communication with subscribers. To maintain loyalty, you must regularly respond to comments. If a subscriber has asked something about an offer, trade or platform, do not leave the question unanswered. Otherwise, some "troll" or hater can do it. And to add friendliness to your answers and content, use stickers and emoji. It would be useful to create custom emojis and stickers so that you can stand out from other channels.
A boosted Telegram channel is a valuable resource that can generate a steady flow of new traders to the platform, and therefore guarantee a stable income. Many CleverAff partners actively use Telegram and show good results. Therefore, we recommend investing time and resources in the development of this particular social platform. If you have any questions about using Telegram in an affiliate program, please contact the CleverAff manager.